Perinet invites you on a journey of discovery that appeals to all the senses. A journey in which you will experience the pleasure of our handcrafted wines and discover the mysteries of the great wines of Priorat, the fruit of an ancient tradition and heroic viticulture.
You will get to know about the Llicorella, the Priorat terroir, learn about history, customs and traditions. You will feel the magic of the region and, most of all; you will have a great time. Perinet brings you the chance to participate in a journey of discovery, cultural enrichment and enjoyment, always inspired by the excellence of our wines.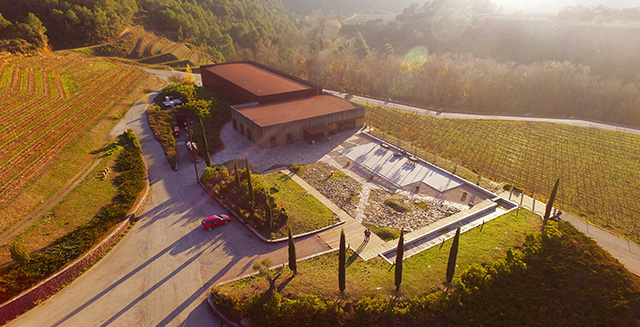 Classic Winery tour & tasting
Anchored by unique northern Priorat area, visit and tasting at Perinet has been recognized as a "don't miss" winery. Leisurely and engaging tour experience. Stroll into our vibrant vineyards and enjoy the views of Montsant mountain range as you take in the quintessential wine country experience.

Classic visit besides stepping in our closest vineyard and a winery tour includes a highlight tasting of 3 current-release wines from across our portfolio. Local snacks will accompany your tasting.
Vineyard visit
Winery tour
Tasting 3 wines
Duration: 1.30h.
Price: 20€ (per person)
Complimentary for Perinet Winemakers Club Members
Recommended reservation in advance. Without reservation visit not guaranteed.
Group over 10 contact us: +34 679 212 855
Early Riser Breakfast
Temporary unavailable
You will enjoy a wine lover and foodie experience in Perinet. We will start enjoying a glass of wine along with a breakfast of typical local products, including "pa amb tomàquet"( bread spread with tomato) with delicious extra virgin olive oil, nuts, cold meats, cheeses and sweets. After the delicious meal, a wine educator will offer you a Classic Visit.
Breakfast
Vineyard visit
Winery tour
Tasting of 3 wines
Duration. 2h up to 2:30h
Price: 28€ (per person)
Complimentary for Perinet Winemakers Club Members
Just with reservation.
Group over 10 contact us: +34 679 212 855
---
Barrel Tasting
Diving deeper into our vineyard Mas del Xes and full winery visit together with an elevated barrel tasting experience in our cave.
These experience will offer you access to the single varietals and single vineyards wines of Perinet collection and a more personalized, unique tasting experience.
Ideal for the collector or those looking forward to enjoying Perinet very best wines.
Each of these reservations is curated to create a unique customized experience on the go and includes our concierge service.
Vineyard visit
Winery tour
Barrel tasting
Tasting 3 wines and 1 Premium limited edition
Local snacks including cold meats and cheese
Concierge service
Duration: 3hrs.
Price: 50€ (per person)
Special price for Perinet Winemakers Club Members
Recommended reservation in advance. Without reservation visit not guaranteed.
Group over 10 contact us: +34 679 212 855 or email visit@perinetwinery.com
---